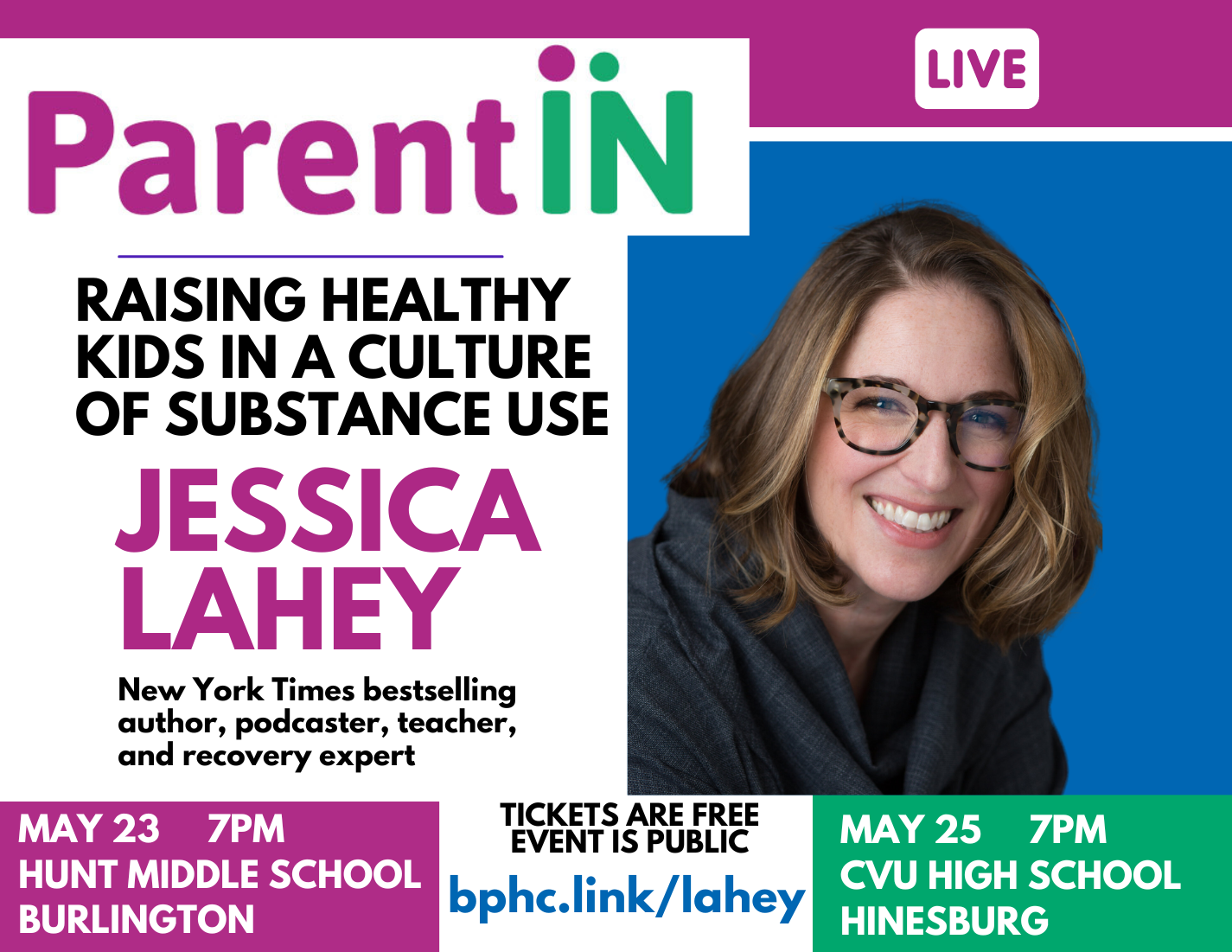 Everywhere we turn, our cultural and social practices have normalized and even glamorized alcohol and substance use. From sporting events to mainstream media to celebrations and gatherings, the casual and "fun" use of substances presents dangerous perceptions for youth, increasing their risk for developing addiction.
In this important LIVE event, ParentIN presents Jessica Lahey, author of The Addiction Inoculation and New York Times bestseller, The Gift of Failure: How the Best Parents Learn to Let Go So Their Children Can Succeed and three year NYT biweekly columnist of The Parent-Teacher Conference. Jessica is a national speaker, with years of lived experience as a teacher, addiction expert, recovering alcoholic, and mother, and will share research-backed strategies on how to set up our kids for the best outcomes. We can't raise our kids in isolation from culture or social pressures. But Jessica will share practical strategies to raise them with a strong sense of self-efficacy, building their skills and confidence to navigate challenging situations like substance use.
Raising Healthy Kids in a Culture of Substance Use
TWO dates to catch this! 
May 23rd  * 7-8:30pm at Hunt Middle School
May 25th * 7-8:30pm at Champlain Valley Union High School
Who is this event for?Prevention is a community responsibility. This discussion will resonate with any positive youth leader – parent or caregiver, educator, coach, mentor, community leader.
What will you take away?
Why youth are more inherently at risk for developing problem substance use.
Factors contributing to youth substance use
Why self-efficacy plays such an important role in raising healthy kids
Share this FREE opportunity widely and be sure to register so you'll receive reminders and event updates leading up to the scheduled event.Light snacks will be provided!
Thank you to our partners at Phoenix Books in Burlington who will be on-site with books for purchase and signing after Jessica's talk.
Register for either event at www.bphc.link/lahey
Please direct any questions or access needs to parentinburlington@gmail.com