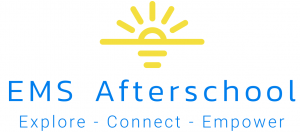 Welcome to the 2019-2020 EMS Afterschool Program! The efforts of many people help to create more opportunities for more students to participate in afterschool.
We offer afterschool programming every Monday-Thursday (with the exception of early release days) after students are dismissed at either 1:50 p.m. (Wednesdays) or 2:50 p.m. until 5:30 p.m.
***
 The all-female Afterschool LEGO Robotics Team took home the trophy for writing clean and concise lines of code in the Robot Award category in the December regional competition at Norwich University.
L to R: Ruby Hall, Stella Neumann, Vivian Halladay, Youth Staff/Robotics Coach/Former EMS Robotics Team member Lia Stampul, and Kiera Eaborn.