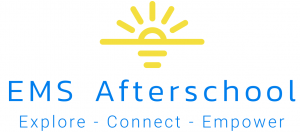 Welcome to the 2019-2020 EMS Afterschool Program! The efforts of many people help to create more opportunities for more students to participate in afterschool.
We offer afterschool programming every school day (with the exception of early release days) after students are dismissed at either 1:50 p.m. (Wednesdays) or 2:50 p.m. until 5:30 p.m.
Afterschool updates from across the District,
including an overview of Restorative Practices.
ABOVE: NEW THIS YEAR!
A monthly series of posts highlighting outcomes we want students to achieve by attending our K-12 Expanded Learning programs.
Featured this month: Students Feel Like They Have a Support System/Sense of Community.