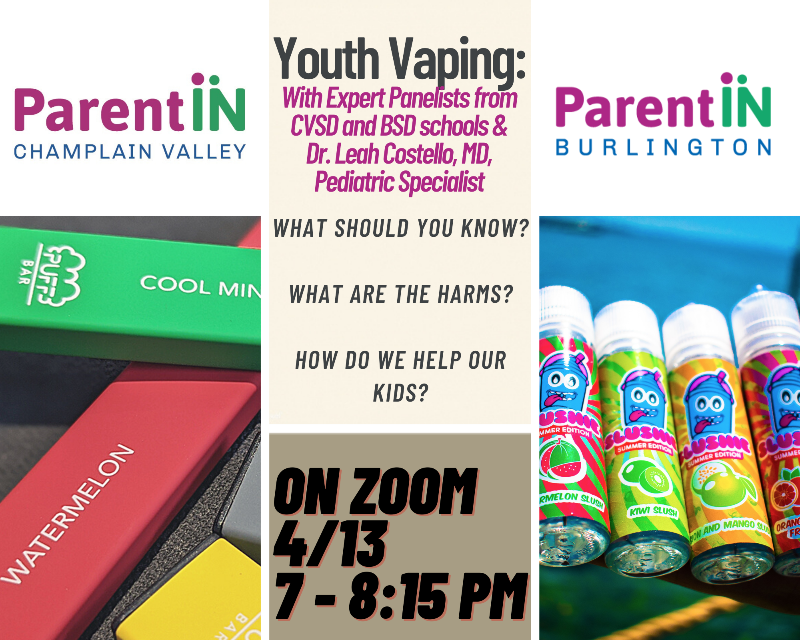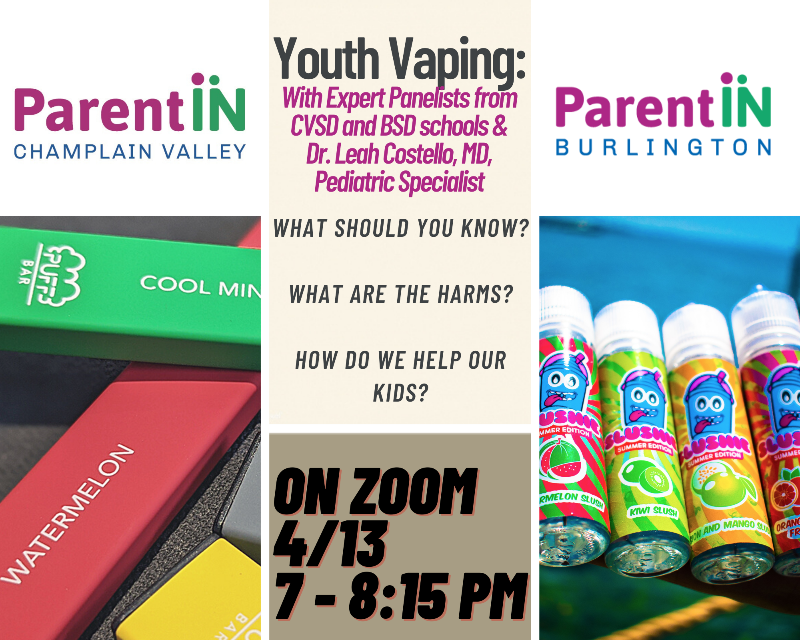 We hear from parents and caregivers, school staff, and others who care for youth in our communities that increased vape use among youth is one of their top concerns. We recently surveyed parents and caregivers in the area who repeated the same message: We are worried about all the teens we see vaping.

In this virtual event we have brought together experts to help us all learn more about today's Electronic Nicotine and Cannabis Delivery Systems and help us have more informed conversations with children about the impact these devices have on developing brains and bodies. We'll talk about resources to help our kids and have a chance to answer your questions. Mariah Flynn, Director of Burlington's substance misuse prevention coalition, the Burlington Partnership for a Healthy Community will share:
What vapes are, harms of youth use, and examples of commonly used products
How to recognize signs of youth vaping and how to talk to your kids about nicotine addiction
Resources to support youth who need help to quit.
A multi-district panel of experts who serve and support our youth every day will share what they are seeing in their work and answer your questions
Facilitator: Amy Sayre, CVSD SAP and ParentIN Coordinator for the CVSD schools
Panelists:
Sunnie Lobdell, BSD Hunt Middle School Student Assistance Program Counselor
Matt Meunier, CVSD CVU High School Student Assistance Program Counselor
Dr. Leah Costello, MD, Pediatric Specialist
Mariah Flynn, Coalition Director, Burlington Partnership for a Healthy Community
Please share this opportunity widely and be sure to REGISTER HERE in order to receive reminders leading up to the event on April 13th at 7pm. For improved security, only registrants will receive the Zoom link via e-mail about a day in advance, so please check your email and/or spam filters. 

Direct any questions or access needs to one of the e-mail addresses below: 
parentincvsd@gmail.com
parentinburlington@gmail.com