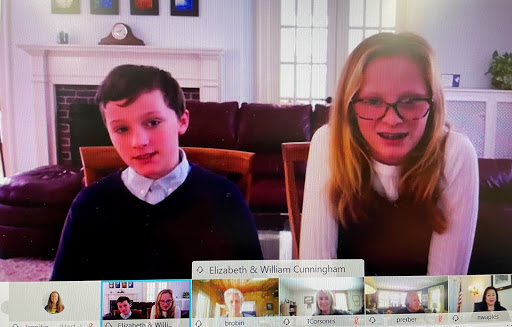 EMS Faculty celebrate William and Elizabeth Cunningham's accomplishments!
"William Cunningham and Elizabeth Cunningham from Edmunds Middle School won the contest with the first place traveling trophy for their school and plaques. William and Elizabeth (6th and 8th grade) described the poster in detail and explained how the eagle in the cage, while caged literally and figuratively by the words of hate, instead looks through the bars to the free eagle, flying away with the key to unlock the cage. The students described how the free but silent eagle with the key has more power to hurt the caged eagle than the cage itself. Although the judging was completely blind and anonymous, Justice Robinson noted that Elizabeth Cunningham once won this contest and once came in second in prior years, showing her creativity knows no bounds! This poster and essay will be featured in the Winter Vermont Bar Journal being published within the month." — VBA Blawg
The Vermont Bar Association along with its Diversity Section and Young Lawyers Division, hosted the fourth annual Dr. Martin Luther King, Jr. Middle School Poster-Essay Contest with a virtual awards ceremony that took place on January 19th, 2021.