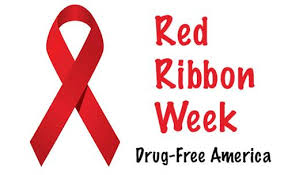 Happy Red Ribbon Spirit Week x 2  
Red Ribbon Week is all about making healthy choices and celebrating our Natural Highs today, tomorrow and forever.  
Monday the 19th and Tuesday the 20th 
"Red-y Up with Red Day!"
Wear lots of red for Red Ribbon Week: a week dedicated to raising awareness about the dangers of drug and alcohol use.  
Thursday the 22nd and Friday the 23rd
  "School Spirit Day", "Teamwork Makes the Dream Work" 
Wear your favorite sports jersey and/or show your school spirit by wearing lots of blue and white.  
Monday the 26th and Tuesday the 27th