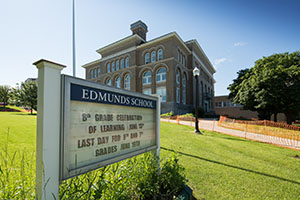 Edmunds Middle School students and families,
While it is always hard to see the light of summer changing and feel the air shift towards that of autumn we are very excited to meet you and have the building full of your energy and learning. Over the summer Mr. Chan and I have been working with the faculty to prepare for the 2017-2018 school year and provide all of you with the school culture that supports your learning and with schedules and team assignments that will support you in unlocking your potential.
As we have done that, the building has also been readied for your return.  The floors are newly waxed, classrooms have been scrubbed and new desks have been added to what was our library and what will be transformed in the next year into our Makerspace.  All has been done to ensure our space is ready to welcome you and foster learning, innovation and collaboration.
We look forward to seeing you soon and to a strong start to the school year.
Ms. McDonough and Mr. Chan